Posts Tagged 'board game'
Meet our first Android app, Board Game Apprentice!  You can get it now at Google Play or the Amazon Appstore.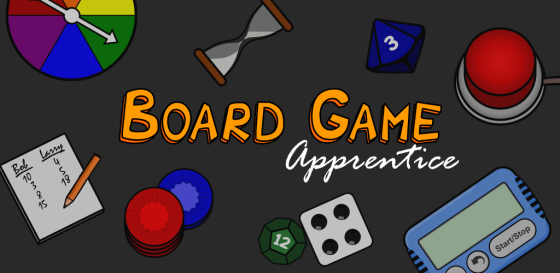 It's a simple thing, conceptually.  Board Game Apprentice is a set of 7 tools for helping you play board games.  If you're missing a timer, dice, or a spinner, you can use a digital one instead (just don't lose your phone!).  They're even fun just to mess around with and a great thing to have handy when you need it.
Available for Android 2.3+, Kindle Fire, and Kindle Fire HD
App Includes:
Timer – Digital, hourglass, analog, and chess timers, each can run in the background when other tools are in use
Dice – Traditional pip dice and numbered dice from 4 to 20 sides, custom text and colors, hold tray, roll history
Spinner – Realistic feel with colored or numbered wedges, freespin mode for pointing at a player
Buzzer – Up to 4 buzzers, sound and glow indicate who rings in first
Doodle Pad – Quick sketching and erasing, supports multitouch (kids love it!)
Scoreboard – Auto sums, enter player names, no limit on number of players, undo and redo
Tokens – 4 colors of your choice, divided table, stackable, supports multitouch
Go get it!
We don't approach mobile apps in the all-too-typical way.  Our apps are more than just microgames.  Board Game Apprentice doesn't skimp on any of the tools provided, offering way more value than other apps which contain just one or two of these tools.  We also can't stand advertisements and devious business models.  We hope you do too.
Tags: android, board game, tool