We make games for everybody!
Available Now!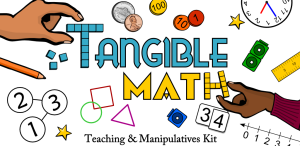 Tangible Math is a virtual magnetic whiteboard for teaching early math skills.  Drag and drop from hundreds of interactive pieces on dozens of activity boards to set up and explore lessons together.  Perfect for homeschooling or for more personal classroom interaction!
Tangible Math is out on tablets everywhere!
Are you missing some parts of your favorite board game? Need to flip a coin, draw a sketch, or deal out tokens? We've got you covered. Board Game Apprentice features a full set of tools for your gaming needs. Roll dice with saved history and a holding tray. Time your games with one of 4 different timer styles, even while using other tools. Give the realistic spinner a whirl. Pick and choose from a full set of 7 tools, then customize and configure them to fit your game.
Board Game Apprentice is available on Android devices, including Kindle Fire, Kindle Fire HD, and Nook HD.
Legacy:
Don't Blow It! is a cooperative physics puzzle platformer for up to 4 players. Get together with your friends or have a good time with your kids throwing each other, building human towers, and completing the goal in a variety of themed levels. Fight over the silly hats you find in the levels. Some hats confer bonuses, others handicaps. When time ticks down and defeat is imminent, everyone turns on one another in a scramble to avoid being the guy who "blew it".