The Boston Festival of Indie Games submission period for digital games ended last night and I have to say…  I'm happy with my entry.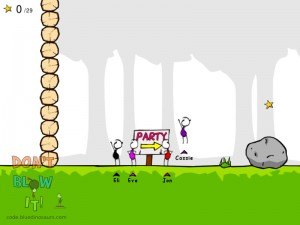 I worked furiously to squash some bugs and get the BostonFIG demo level finished earlier this month.  Shortly before the deadline, coding work on Don't Blow It slowed a little as I began polishing it and I started to put more thought into the business side of things.  There's a lot to consider as I try to make not just a game to play with the kids, but a product that other people will want and be able to get.  This festival will be a good chance to expose people to the game and judge their reactions.
Already, though, there will be some big changes in the near future to further that goal.  When coding cooled down, I was able to step back and re-evaluate what makes Don't Blow It special.
"Simple, yet extensive cooperation"
The prototype that we'll be showing at BostonFIG does demonstrate a lot of great things we've been able to achieve with this game already.  It represents a very solid milestone.  However, to make it really special, the overall gameplay concept of "Simple, yet extensive cooperation" needs to be reinforced.
I researched and scoured my design for new ideas and features that will get the game closer to that ideal.  The best feeling in Don't Blow It is when you interact directly with other players to get something done.  You can grab and throw each other, stand on each other's shoulders, and move objects out of the way.  The incoming features expand the possible interactions so that you're getting in the way less and helping out more.
Another step we're taking is to expand our team.  We'll be looking for people to replace all of the art (characters, backgrounds, menus, objects… everything) and make the game really attractive.  The art we have now is good, but this game deserves to have great art.  We'll also be looking for a contract musician to flesh out the soundscape.  A well-polished Don't Blow It will be tremendously exciting for everyone.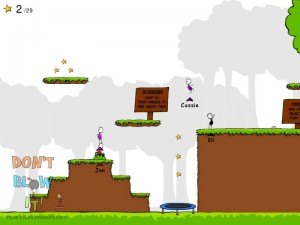 So, we'll be working on those new features and keeping our eyes peeled for great talent to bring on board.  We hope you'll come see us at BostonFIG.  Register for free and we'll play our game with you on Saturday, September 22nd!
2 Responses to "Don't Blow It! – BostonFIG update"