Great news!  Button Battle is finished and you can play it right away…  for FREEEEEEEEEEEE!!!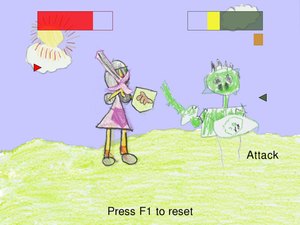 Okay, I haven't finished a game yet that I plan to sell, but whatever.  Here's another description for you:
Button Battle puts two players against each other, attacking and blocking until one player is left standing.  The combat is turn-based, where you choose to attack or block high/middle/low depending on how your opponent is attacking.  The quicker you react to block an attack, the more damage your next attack will do.
Features:
Painstakingly (for the kids HA HA HA!) rendered art
Two players required!
Use any combination of keyboards and joysticks!
Amazing sound effects!
Mute button!
Supports any screen resolution!
Tutorial included!
Networked multiplayer!
Works on Linux and Windows (and probably others – see next blog post)!
Menus!
Randomize body parts!
FREEEEEEEEEEEE (!!!)
Open source! (see next blog post)
That ought to do it.  I think I'm getting the hang of this marketing thing.  You can get the game (for Windows):
<HER>
Let me know if you have any problems running the game.  If you haven't installed the graphics drivers from your graphics card manufacturer, that is pretty important for modern games.  Many systems do it automatically now.  You might also need to install Microsoft's VC++ package.