Don't Blow It has been steadily improving over the last few weeks.  I'm running out of programming tasks!  There are some new features I'm planning to add later, but more importantly, I'll be producing a gameplay video soon (let's hope for this week).
Here's another screenshot to mark our progress: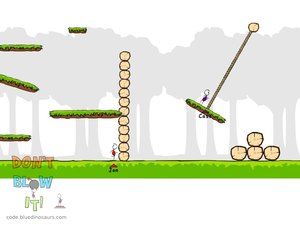 It's getting really exciting now, even as I struggle to manage the development.  I can't wait to play it for real… but that means I need to get various pieces in order, like level design, art, music, and networking.  There sure is a lot of work left, but the game will be worth it.
4 Responses to "Don't Blow It! progress"